Andrew Balio
Harvey M. and Lyn P. Meyerhoff Chair
Principal Trumpet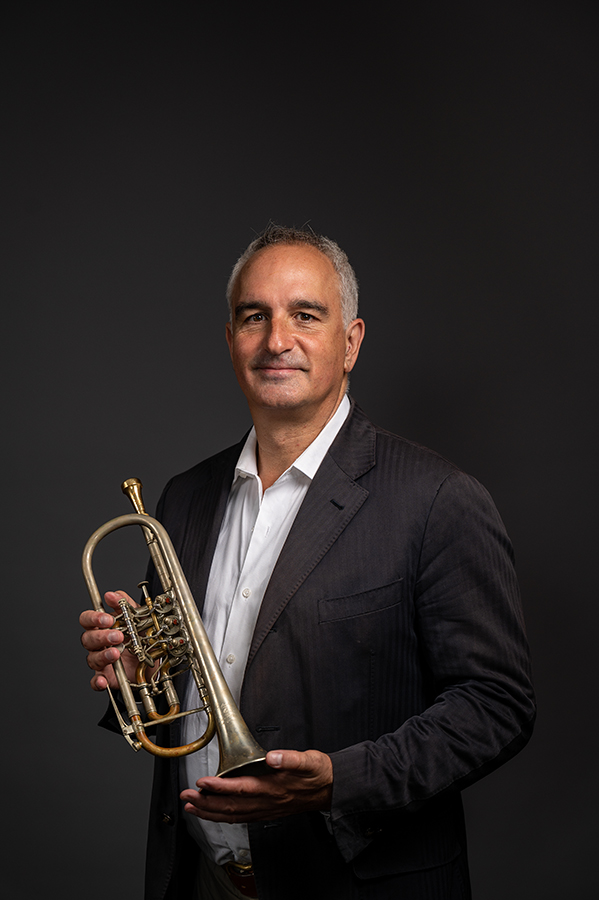 Wisconsin native Andrew Balio was appointed as Principal Trumpet of the Baltimore Symphony Orchestra in 2001 by Yuri Temirkanov. He recently served as principal trumpet of the Oslo Philharmonic concurrently with his BSO duties in 2014/15. In 2019, he was guest principal trumpet of the Chicago Symphony and in 2020, the Hong Kong Philharmonic. Prior to his arrival in Baltimore, he had been principal trumpet of the Israel Philharmonic under Zubin Mehta since 1994 and the Orquesta Sinfonica del Estado de Mexico since 1990, as well as the Boston Philharmonic.  His solo debut was at age 15 with the Milwaukee Symphony playing the Haydn Concerto.  His teachers included Charles Schlueter, Adolph Herseth, Roger Voisin and Gene Young.
In 2014, he launched The Future Symphony Institute, an online think tank to examine the complexities of making symphony orchestras financially viable while preserving their artistic mission. The website www.futuresymphony.org has garnered much attention in the international press. For his work in this area, he was invited in to the Academy of Philosophy and Letters as a board member and has presented papers during its conferences.
His most recent recording, Soli Deo Gloria,his own transcriptions of the music of JS Bach for trumpet and organ, received much acclaim. Fanfare Magazine wrote of his album;
"This is, hands down, the most magnificent, eloquent, communicative trumpet playing I have ever heard in my life, and I have a whole shelf full of trumpet CDs by virtuosos past and present against which I am comparing it." 
As a soloist, Mr. Balio has appeared in Europe, South America, Japan and the United States under such conductors such as Mehta, Temirkanov, Rozdestvensky, Herbig, Venzago, Stenz, McGeegan, Bergman, Orbelian, and Lintu.  Recent years have included solo appearances in Lithuania, Russia, Italy and Brazil as well as the release of his first solo recording for Naxos, the Weinberg Trumpet Concerto with the St Petersburg Symphony.
His Carnegie Hall solo debut was with the Moscow Chamber Orchestra in a special concert for victims of Hurricane Sandy, many of which were Soviet émigrés.
As a teacher, Mr. Balio has taught master classes regularly in Russia, Poland and Italy, the Conservatorio Nacional of Mexico, as well as in Brazil, Chile, Scandanavia, Israel, Japan and the United States.  He has recorded for the Sony, RCA, Angel, Phillips, Naxos and Teldec labels.